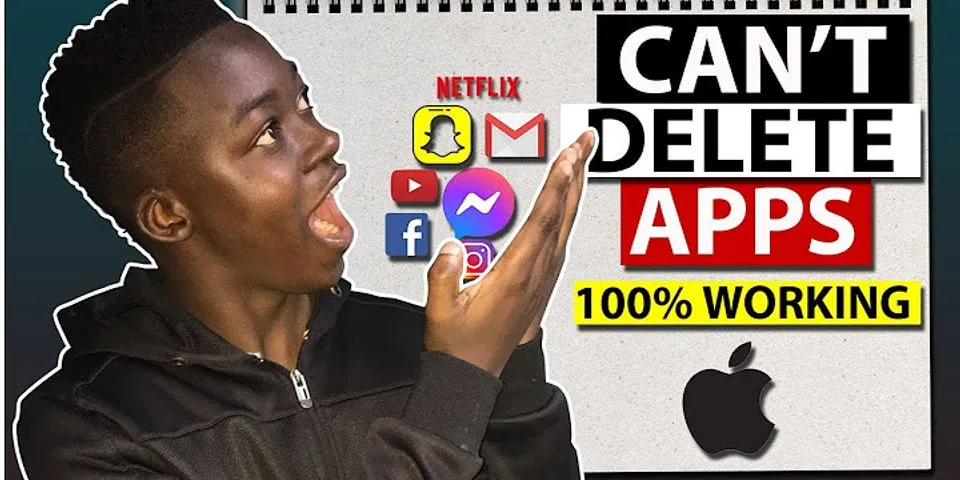 Its usually pretty straightforward to uninstall apps on your iPhone or iPad. However, sometimes, you might run into some unexpected issues, and it can be incredibly frustrating. To help you out, weve got some verified solutions for you to try. So, if you cannot delete apps on iPhone and iPad in iOS 15 or iOS 14, heres how to fix it.
Why cant I delete apps on my iPhone and iPad?
Non-removable apps You can delete almost all third-party apps and several inbuilt Apple apps. However, you cant remove core system apps like Phone, Messages, Settings, Photos, Camera, Safari, App Store, Clock, Find My, Health, and Wallet.

If you really want to get rid of one of these, you can hide them from view.

Screen time restrictions Have your parents put a Screen Time lock to apps, or have you done it to yourself mistakenly?

Mobile Device Management (MDM)restrictions If the iPhone is given by your employer, school, or other such organization, it might have a particular profile that may be preventing the uninstallation of certain apps. Contact the relevant admin for assistance.

If this is the scenario, you cant delete the apps unless you have administrator rights. So, hide and make peace with it.

Incomplete download The app download is frozen due to some error, and now its neither on nor off your iPhone.
Cant uninstall apps on iPhone? Try these fixes!
Disable Restrictions on iPhone
Delete waiting apps from iPhone
Restart your iPhone
Reset All Settings
1. Disable Restrictions on iPhone
Open the Settings app and tap on Screen Time.
Tap on Content & Privacy Restrictions.
Note: Here, if you see, Turn On Screen Time, that means this feature isnt active. Skip the steps below and move to the next solution.


Tap on iTunes & App Store Purchases. Enter the Screen Time passcode when asked.
Tap on Deleting Apps and choose Allow.


Now, go back to the iPhone Home screen and try to delete the app. There should be no problem now.
2. Delete waiting apps from iPhone
Waiting apps, a.k.a. apps stuck with the text Waiting below the grayed application icon. To fix this, i.e., let the app download, ensure your iPhone has enough free spaceand is connected to strong Wi-Fior cellular data.
Once the installation is complete, you can remove the app normally. To terminate this pending app installation and delete the app, long-press the app icon and chooseCancel Downloadfrom the popup.
If you do not see this option, keep pressing the app icon until jiggle mode is active.
In iOS 15 or 14, tap on the waiting apps minus icon (if you see it) and then Delete App Delete.
In iOS 13, tap the cross icon on the app, and then Delete.
3. Restart your iPhone
This is an almost sure-shot solution to address this issue successfully. When you can not remove apps, go ahead, and restart the iPhone.
You can use the buttons (like you usually do) or open the Settings app General Shut Down to power off the device.
After a minute, switch on the iPhone and try to delete the app. You should have no trouble performing this action.
4. Reset All Settings
Well, we are on the last resort; if nothing helps, reset all settings from the Settings app General Reset Reset All Settings. Once the process completes, try to uninstall the app.
However, this trick will also wipe all your saved Wi-Fi networks, preferences, and password. So, keep a note of that before proceeding.
Good riddance, my friend, good riddance. I hope these hacks can help you remove apps from your iPhone. If not, please free to connect with us in the comment section below.
Want more assistance? Check out these articles
How to lock apps on iPhone with a password
Cant Update Apps on iPhone or iPad? Heres the fix
How to delete your Spotify account from iPhone and iPad
How to crop photos on iPhone or iPad: There are two ways
Video