These Homemade Heat Packs are easy to make, with just a few supplies, are inexpensive and make great gifts too!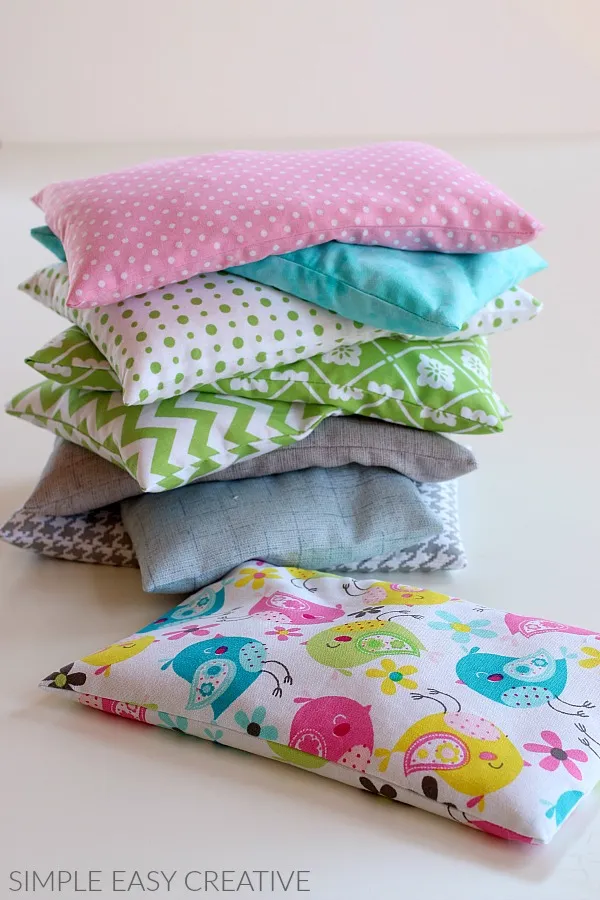 While these Reusable Heat Packs are easy to make and use, there are some questions that need to be answered
What should I use the rice heat pack for?
The homemade heat packs can be used for sore muscles, when someone is not feeling well or even to warm up on a cold night.
You can add Essential Oils like lavender or peppermint to the rice before filling the heat pack, which not only makes them smell good, but also helps to calm (lavender) and helps with colds and breathing when you are sick (peppermint).
Who should use the heat packs?
Making your own heat packs with rice makes them very user friendly for any age. The concern with an electric heating pad is they are not recommended for everyone.
The heat packs are great for athletes, people who workout, gardeners really anyone can use the reusable heat packs.
How should you use the homemade heat packs?
These DIY Heat Packs are made for the microwave. Heat for 1-2 minutes, shake gently and apply to area that is needed.
You can also place the pack in the freezer and use as a cold compress.
What should I use to fill the homemade heat packs?
Long-grain rice is the preferred filler, be sure its NOT instant rice.
However, you can also use other grains like beans, corn, wheat, barley, or millet.
Dried Cherry Pits have also been used as filler.
What should I use to make the homemade heat pack?
Cotton fabric is best to use. It can be found at any fabric or craft store, and some discount stores like Walmart.
You can also make the heat packs using white muslin and then make a sleeve that the heat pack slides into making the heat pack easier to clean.
What size should the heat packs be?
Any size will work. The ones I made are 5 inches x 8 inches after they are filled.
Rectangle size works great for wrapping around your neck or knee.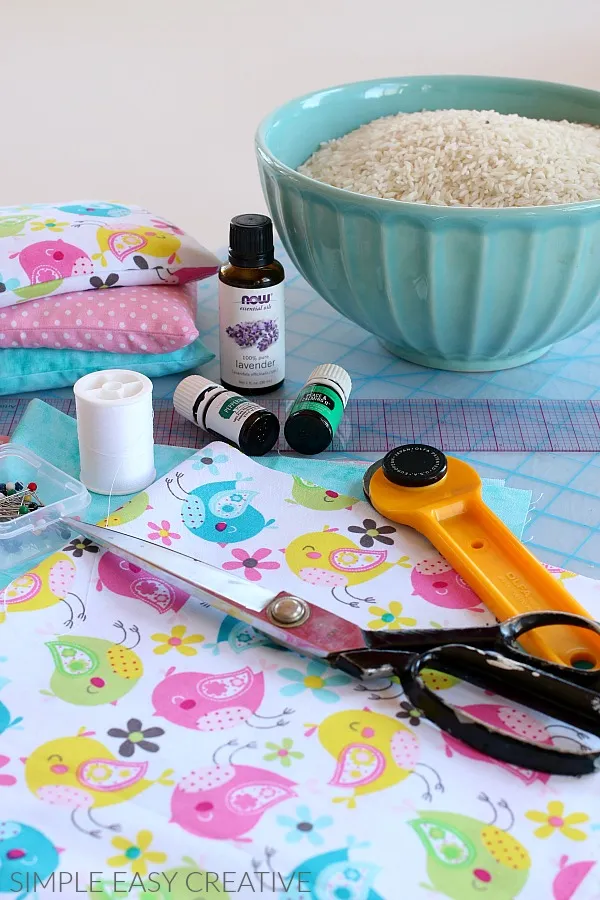 Homemade Heat Packs Supplies
Fabric cotton works best the fabric I used were fat quarters that I purchased at Walmart. Any fabric or craft store should have or any fabric by the yard works fine too. I found that it was super easy to cut the fat quarters since they were already the length I wanted. I got 3 heat packs from 1 fat quarter.
Long Grain Rice be sure its not instant. You can also use other grains for the filling like beans, corn, wheat, barley, millet. Cherry Pits are also another alternative for filling.
Essential Oils this is optional, but I like them. Using lavender essential oil gives a calming feeling and using peppermint is good for when you have a cold.
Sewing Machine
Cutting Mat (optional)
Rotary Cutter (optional)
Scissors
Ruler
Pins
Thread
Needle
Funnel (not pictured)
How to Make a Heat Pack
Cut fabric. Any size will work. Determine your finished size, then double the LENGTH and add 1/2 1 inch for seam allowance. These are cut 6 inches by 18 inches making the finished heat pack 5 x 8 after sewn and filled. A cutting mat and rotary cutter works great, but you can also use a ruler and scissors.
Fold fabric in half with right sides together
Using a sewing machine, sew around all the sides. BE SURE to leave about 2 inch opening for filling
Turn heat pack right side out and iron seams
Use a funnel to fill with rice. Fill about 3/4 full. For this size of heat pack, I used 1 (3) pound bag of long grain rice for 3 heat packs.
Pin the opening closed
Using a needle and thread, stitch the opening closed
I found it easiest to sew several heat packs at once, repeating the steps for each heat pack at once. So cut all the fabric, then sew, turn, iron, fill, stitch closed.
Giving the Homemade Heat Packs in gifts is a great idea! You can add lotions, games, movies, snacks and more to a gift basket along with the heat packs. Having a few reusable heat packs ready, you can easily put them together with some chicken soup, crackers and other items for a friend or family member when they are not feeling well.
When you make these Homemade Heat Packs or any of my other recipes or projects Id love to hear what you thought, leave a comment below in the comment section ortag me on Instagramwith #simpleeasycreative so I can see them!
Video