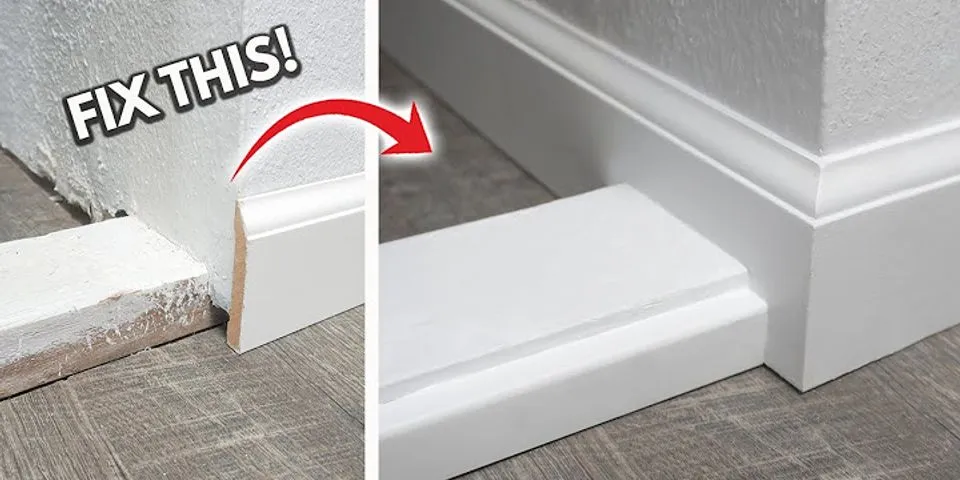 Can I confess something to you?
Did you know that Corey and I installed new flooring on the first floor of our home about 3 years agoand wenever installed baseboards?
We lived forthree years in this house with no baseboards.
You may have already known this. I mean, its not like it was exactly hidden in photos.
Cute, right?
Well, when it came time to sell our house, we knew that we would obviously need to put some baseboards up before we could list it, and since Corey works long hours and already had enough on his plate, I decided to tackle it myself.
As in, alone. All by myself. No help. Baseboards.
I was just a little bit intimidated. I mean, youre talking to a girl who hadnt ever even touched a power tool before this year. And now look at me installing baseboards all by myself.
Im growing up so fast.
When I mentioned that I was working on this, I had a lot of people tell me they were looking forward to reading about it, so heres the tutorial for anyone who has been wondering how to install baseboards. Let me assure you this is a simple project. It sounds so intimidating (I know I was terrified), but itsno big deal. It took me about two days of work (with a child running around underfoot) to install, caulk, and paint the baseboards on the entire first floor of our house.
See? Simple.
This post contains affiliate links. Click here to read my full disclosure policy.
HOW TO INSTALL BASEBOARDS
Your first step is to choose the look youd like to go for with both your baseboards and your trim. Youre going to want to pick out some baseboards (obviously) and then decide between cove or shoe molding to go along the bottom. Shoe molding (which is the kind that curves outward) is the most common choice, but Corey and I actually prefer cove molding (which curves inward). Either way, youll want some type of trim to finish off the baseboards it makes a big difference.
Youll want to pick a corner of the room to start in I recommend starting on the longest wall so you have some time to get the hang of it before you need to finish off a corner. Begin by grabbing one of your baseboards and using a miter saw angled to 45-degrees to cut the end of one side at an angle. If you arent familiar with how to use a miter saw, I have a full tutorial and video for you right here. Once your end is cut, push it up into the corner and use a nail gun to install the baseboard.
Once you get to a point where you need to cut a piece down for the next corner, just measure and then cut so that theback of the baseboard lines up with your measurement. It takes a little bit of thinking and planning to know how to hold your baseboard in order to get the cuts to line up, but if youve done it correctly it will look like this:
You obviously want the corners to line up as well as you can make them, but if youre a beginner (like I clearly am), there may be some occasional gaps, like you see above. Donot stress about these. Caulk covers a multitude of sins, and youll be amazed at how well it covers up any little imperfections like this.
If you have an oddly-shaped room (like I do), you may also have some corners that require an outside miter cut rather than an inside one. Theyre the corners that look like this (the one at the end of the wall):
For these, all you have to remember is that you want thefront of the board to be longer than theback of the board, but you still want to make the cut so that the back of the board is the length youve measured. Generally speaking, if you take whatever way youve been holding the baseboards to make an inside cut and flip the board over horizontally (so that youre cutting into the opposite side of the board), youll flip the direction of your miter.
I know its hard to understand when its all typed out the easiest way to do it is just grab a scrap board and play around with cutting until you get the hang of it. I dont know about you, but angles hurt my brain sometimes and I have to just try things until I find something that works.
Once youve got all of your baseboards in, its time to move onto trim. I dont know what it is about the trim, but the cutting the angles on it is the hardest part of this process for me. I wont even try to explain it to you because Iknow Ill just make it sound more confusing than it is, but my best advice is to (once again) practice, practice, practice until you know exactly how you need to hold the trim to make it fit together properly.
Follow the same routine to get your trim installed all the way around the room, and then youre ready to caulk and paint! Wealways buy pre-primed baseboards, because it makes the painting process a lot faster and painting trim is no joke, yall.
When you caulk, youll want to be sure to caulk all of the nail holes, any places where the boards meet together, and all along the top where the baseboard meets the wall. I also calk along the line where the trim and baseboard meet. If you feel more comfortable taping before you caulk, thats fine, but I generally just go for it without tape. All you have to do is use a caulk gun to run a thin bead of caulk all along the line you want to caulk, then use your finger (it helps if you get it wet first) to run along the caulk and smooth it out. Then, give it about 30 minutes to dry and youre good to go!
And, of course, paint. I always go with the plain ol gloss white that comes premixed at the hardware store. I live in an older home, which means that the trim around my doors, windows, and other places around the house were originally painted an off-white color so, as we have installed baseboards in each room I have also painted the existing trim gloss white to match the baseboards. I typically paint the doors as well. Its annoying, but so worth it in the end.
And now? Well, we have baseboards. Just in time to move. Lovely.
Ive already promised myself that in the next house I will be sure to replace flooringand baseboards at the same time so we dont run into this problem again. Of course, my dream world scenario would be to have someoneelse install new flooring and baseboards throughout the house before we even move in, but somehow I dont think thats going to be in the budget.
Oh well. At least now I know I can do it.
Video