HOME FOOD & DRINK
How Do I Thicken Curry?
More Articles
Can You Use Flour to Thicken Chili?
How to Make Black Bean Sauce
How Much Flour to Thicken a Sauce?
How to Cook Stew in a Slow Cooker
What Is a Good Thickening Agent for Indian Curry?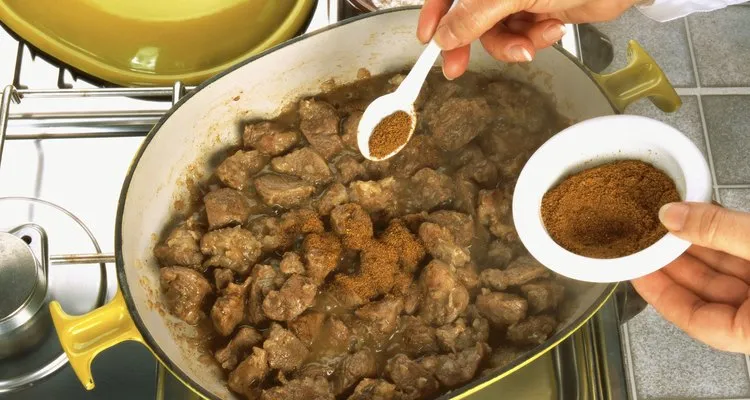 Stockbyte/Stockbyte/Getty Images
Curries come in thick or thin varieties, but the ideal curry is neither too runny nor too thick and gummy. From the southern Indian word "kari," which means sauce or stew, curry should easily spill over the rice on your plate, but not be so runny it doesn't coat the ingredients. In either case, you can tweak the sauce until the curry reaches the consistency you like best.
Keep It at a Simmer
Many curry recipes don't call for any thickening agent -- they rely on reducing the sauce, from five to 30 minutes, until it thickens from a loss of water. To use this method, first make the sauce and allow it to simmer until it almost reaches the consistency you want, then add the vegetables and meat to cook. Alternatively, cook the meat and vegetables first separately and set them aside to add back to the pan after the sauce has thickened.
The All-Purpose Thickener
A paste made with a few tablespoons of flour and a cup of either water, stock or tomato juice provides a tried-and-true way to thicken curry. Cook the flour first for a minute or two, then add the liquid slowly, whisking constantly, and stir the sauce until it thickens. For a sauce that is somewhat less thick, toss the meat for the curry in a bowl with flour, shake off each piece, and proceed with cooking.
Powerful Thickening
Cornstarch is a reliable thickener as long as you don't cook it for too long at high heat. Use half as much cornstarch as you would flour and stir it into cold liquids before putting the mixture into the curry. Stir the mixture constantly as you add it to the curry and simmer the curry sauce on low heat for 20 minutes or until the sauce thickens.
Let Ingredients Do the Work
For curry that is slightly less thick than the ones you make with a flour paste or cornstarch, use the curry ingredients themselves. Possibilities include mashing some of the potatoes in the curry after they have softened using a fork or the back of a spoon or taking a few of the vegetables out of the curry after they have softened, pureeing them in a blender and adding them back to the sauce.
Tweaking Here and There
If your curry has thickened too much, you can simply add a bit more liquid to thin it. If the sauce doesn't thicken after you've added a tablespoon of flour, add a paste made with another tablespoon of flour and a few tablespoons of the hot liquid. Whisk the paste into the sauce and continue to stir until the curry thickens.
Related Articles

Can You Use Flour to Thicken Chili?
How to Make Black Bean Sauce

How Much Flour to Thicken a Sauce?
How to Cook Stew in a Slow Cooker
What Is a Good Thickening Agent for ...
How to Make Celery Soup

Corn Starch Vs. Rice Flour As ...
How to Make Chipotle Sauce
What Else Could You Use Besides Cream ...

How to Make Fish Taco Sauce

Do You Use Flour or Corn Starch to ...
How to Make Fried Ramen Noodles

How to cook bean sprouts

How to Cook Arroz Chaufa
How to Cook Balatong
How to Use Potato Flakes to Thicken ...
Things You Put in Gumbo
How to Make French Sauce With Roux of ...
How to Make A1 Steak Sauce Thick & ...
How to Keep Milk From Separating in ...
References
Food Timeline: FAQs: Charlotte to Millet
The Deluxe Food Lover's Companion; Sharon Tyler Herbst and Ron Herbst
Bon Appetit: Panang Chicken Curry
Food & Wine: Keema Beef Curry
Fine Cooking: North Indian Chicken Curry
My Recipes: Indian Lamb Curry
Writer Bio
Susan Lundman began writing about her love of cooking, ingredient choices, menu planning and healthy eating after working for 20 years on children's issues at a nonprofit organization. She has written about food online professionally for ten years on numerous websites, and has provided family and friends with homemade recipes and stories about culinary adventures. Lundman received her M.A. from Stanford University.
Photo Credits
Stockbyte/Stockbyte/Getty Images
Video